Slow Roasted Meats
A list of some great Slow Roasted Recipes, perfect for a hearty winter feast!
Apr 19, 2013 - taste.com.au -

221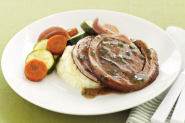 Slow-roasted beef brisket recipe - Preheat oven to 140°C. Heat oil in a large casserole over medium heat. Brown beef well on all sides, pouring off any fat. Add rosemary and pour over combined wine and...
Apr 19, 2013 - recipes.coles.com.au -

239

This winning dish features tender pieces of beef marinated in lemon juice, herbs and spices.
Apr 19, 2013 - guardian.co.uk -

188

At the restaurants we follow the advice of food scientist Harold McGee and cook whole rumps of beef very slowly at temperatures that maximise the fibre-busting activity of enzymes within the meat.
Apr 19, 2013 - taste.com.au -

225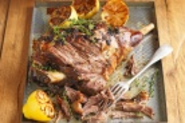 Step 1 Preheat oven to 160°C/140°C fan-forced. Place lamb in a large roasting pan. Drizzle with oil and lemon juice. Sprinkle with garlic, oregano and thyme. Season with salt and pepper. Roast for 4 hours and 30 minutes to 5 hours or until meat is tender and falling off the bone.
Apr 19, 2013 - jamieoliver.com -

266
In this recipe I'm going to show you how utterly incredible a slow-roasted shoulder of lamb can be. In exchange I'd like you to buy quality local lamb that's had the appropriate amount of hanging time. I'm going to let the meat speak for itself and not add much to it, just a simple sauce made from all the goodness in the tray.
Apr 19, 2013 - metro.co.uk -

196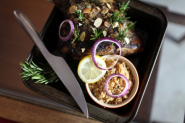 The ideal slow-cooked lamb shoulder should be sweet, sticky and fall off the bone (Picture: Oli Jones) Most of us will serve lamb as our species of choice this Easter so it's worth considering the more economical and flavoursome shoulder instead of leg.
Apr 19, 2013 - jamieoliver.com -

258

This is a proper old-school Sunday roast with crackling. Leaving the bone in adds a bit of extra flavour and having a layer of fat helps to keep the meat nice and moist as it roasts. This isn't the kind of joint you carve into neat slices.
Apr 19, 2013 - taste.com.au -

234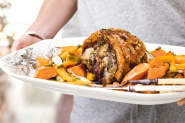 Slow-roasted pork with thyme and marjoram recipe - Preheat oven to 220°C. Combine the thyme, marjoram, garlic, salt, oil and vinegar in a large bowl. Add the pork and use your hands to work herb mixture into rind and...
Apr 19, 2013 - allrecipes.com.au -

231
This dish will impress your family or your dinner-party guests. A slow-roasted pork belly that gives you beautiful succulent moist tender pork with light crisp crackling - extremely easy and quick preparation time. You can even prepare it ahead by slow-roasting the day before and finish cooking just before serving, with a choice of accompaniments and finishing sauces.
Apr 19, 2013 - allrecipes.com -

190

Rabbit is roasted in a spicy onion gravy. Great for dinner, served with rice and homemade bread.
Jan 24, 2014 - savannahlamb.com.au -

252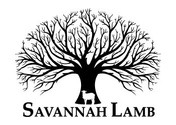 A great recipe to use your preserved lemons, great for summer and winter